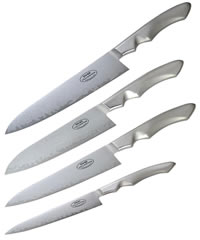 Kitchen knives are an integral part of a kitchen and we need it almost at every instant when working in the kitchen. But most of the time, we are cutting food items with wrong kitchen knives as we do not know which of the kitchen knives are appropriate. Moreover, picking out best kitchen knives for daily usage and having an ease in work just like professionals can be pretty challenging. But we have a simple guide to best kitchen knives for you that will surely solve your issues with kitchen knives and help you to buy the best kitchen knives.
Forget the Advertisements
Every now and then you might come across different advertisements regarding best kitchen knives and best kitchen knives sets. But these all are crap. They normally given you a set of a dozen kitchen knives and claim that they are going to be the ultimate kitchen tools for you. But in reality, you just need a total for four basic kitchen knives as your best friends in kitchen. These kitchen knives include a chef's knife, a paring knife, a filleting knife and a cleaver. With these four kitchen knives, you can create wonders in your kitchen and impress your friends and family by getting your kitchen work done quickly.
Prefer a Regular Store over Online Store
For buying kitchen knives, it is highly recommended that you buy them by going to a store yourself and not buying it just through the internet. In this way, you can give a knife a good try and actually see whether it is suitable for you or not. Hold it in your hand, see its weight, size, design, grip etc and then make the final purchase decision for the your collection of best kitchen knives.
Prices and Price Range
There is a wide variety of kitchen knives in different price ranges. You can spend as little as $20 or as much as $80 for buying good kitchen knives. But the important thing is that, you should just know how to pick out the right kitchen knives, you can get best kitchen knives in any price range you desire.
Don't Forget the Knife Sharpener
In order to have best kitchen knives collection, make sure you pay as much attention to knife sharpeners as much as to the kitchen knives themselves as they help in efficient running of your kitchen knives and help you to prevent injuries from kitchen knives. Make sure that you sharpen your kitchen knives once in a while, as they can be dangerous if they are not sharpened well as they slip and can cause injuries in your fingers.
Magnetic Racks and Kitchen Drawers
It is highly recommended that you put your best kitchen knives in drawers or on magnetic racks rather than storing them in knife blocks as they are a home to bacteria and germs and they cannot be cleaned. Therefore, storing the kitchen knives in drawers or magnetic racks is highly advisable.