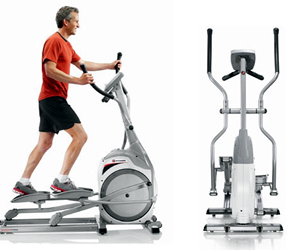 Elliptical bikes are chiefly used for indoor exercise purpose. Elliptical bike is a type of indoor bike which have paddles like cycles but it is fix to one place. On elliptical bike it is your choice whether you want to do cycling exercise or walking exercise or for variety you can perform both walking and cycling exercises. There are numbers of paybacks of elliptical bike. Few are mentioned below:
Burn calories
The most important and the typical purpose for which elliptical bike is mainly used are for burning calories and losing weight. Initially it was thought that treadmill is the most beneficial machine for the purpose of burning calories then elliptical bike, but now after research it has been confirmed that Elliptical bike is more valuable for fitness then treadmill. Elliptical bike boosts the heart rate of its users and along with it elliptical bike also strengthens cardiovascular system.
Low Impact
We all know that whenever we go out for a walk or jogging our foot hit the ground which can affect our joints. In elliptical bike we can achieve the same purpose of walking and jogging with low impact. There was a study which was published in Journal of Exercise physiology which shows the result that elliptical bike has low impact. This low impact factor of elliptical bike is very valuable for older people who have weak joints and it is also very appreciated by a person who has just recovered from any sort of leg or joints injury.
Convenience
Weather changes on daily basis. Sometime it's very cold, sometime it's rainy and sometime there is unbearable sun outside. If you don't want to miss your routine exercise due to any of such reason then your solution to this problem is elliptical bike. If you can perform the entire outdoors exercises indoor then why would you go out? Elliptical bike gives this convenience. You can stay at home, play your favorite music and exercise while staying inside through elliptical cycle. Now many advance elliptical bikes are coming in market with the feature of mp3 player which makes it more fun to use.
Customization
Elliptical bike has many features like cycling and walking. We can also customize such features of elliptical bike according to our will. According to shape magazine if we want to make elliptical bike to act like taking steps then we can incline the back wheel and if we incline the back wheel a little less then you can use it as cycling or skiing.