There are many things with which the Jaguar F-Type R has no issue. The first is noise – I'm still genuinely amazed that Jaguar gets away with the R being as loud as it is; it frightens elderly people and makes children cry, and driving the Convertible, you experience that noise in its purest form. Another is speed; the R's 186mph top speed is a staggering figure by any measure. 
[contentblock id=1 img=adsense.png]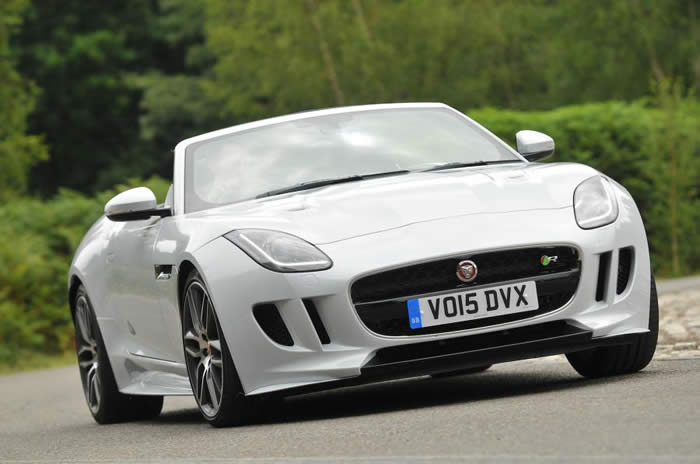 The trouble is, its monumental performance has always felt a little distant in the real world, largely because on a soggy B-road in November, with the traction control switched off, it can feel like a hot rod competing in a rallycross stage. It has to be continually and closely managed in anything but Miami-like conditions.  For its 2016 model year refresh, that could be a thing of the past –
if you want it to be. S and R F-Types now get the option of an on-demand all-wheel drive system, while torque vectoring is now available as an option on the entry-level V6.  Also included now is JLR's latest Incontrol multimedia system, while the bonnet has been raised slightly in order to house the AWD componentry. But most noticeable could be a swap from the previous generation's hydraulic steering rack to an EPAS system and a stiffer suspension set-up over rear-drive cars to better manage the extra weight.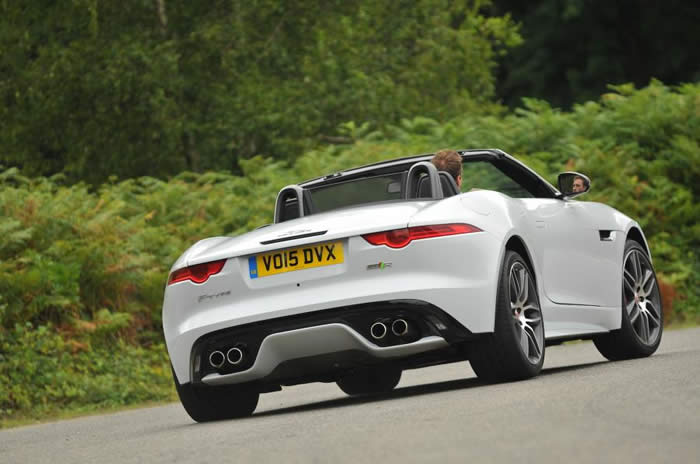 Absolutely as raucous as it ever was. Its thundering V8 turned fewer heads during our initial experience of it on US roads – the home of the V8 petrol engine, but along our dainty, twisting UK roads, curtains twitched, tea cups were dropped and bowler hats were ruffled. It really is an unapologetically in your face car.  The new EPAS steering works well enough. It's a touch lighter off centre, maybe feeling a touch slower, too, but it weights up consistently thereafter and remains precise. 
[contentblock id=2 img=adsense.png]
The drop-top's lesser rigidity is noticeable in the tightest bends and across our rough, broken stretches of road, where the ride is less controlled than that of its solid-roofed Coupé stablemate.  Even so, we thought the addition of AWD had done wonders for driver engagement, and that conclusion remains the same. Okay, ultimately the Convertible doesn't have quite the same urgency at the front axle as the Coupé, but you're unlikely to suffer this often on the public road.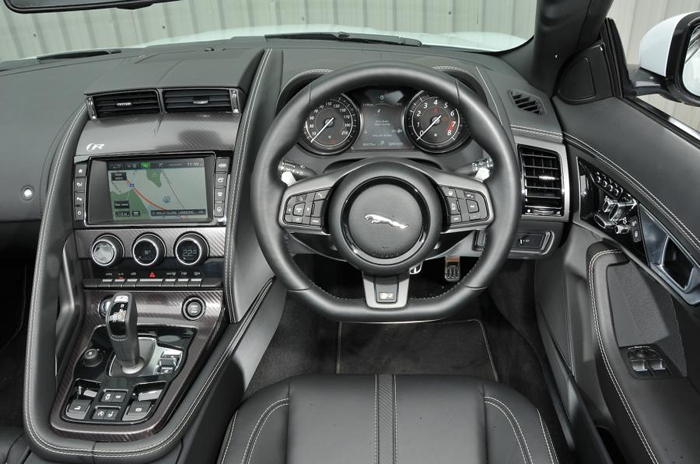 More obvious is the way the F-Type splits its power from back to front and gives more confidence on the reapplication of throttle. Even with its traction control systems left on, some rear slip is still allowed, but with nowhere near the severity of the rear-wheel-drive model. You soon learn that more throttle is possible earlier as you wind off lock while the diffs and torque vectoring system do their work to keep you on course.
It's still adjustable mid-corner, and that, simply, still makes it fun. Post-corner, the AWD model's 80kg of extra weight might as well be 80g. The AWD model's extra traction helps slingshot you up the road with the same urgency – in fact, according to Jaguar, from a standing start that extra traction gets you to 62mph more quickly than the two-wheel-drive model. It's an entirely believable claim.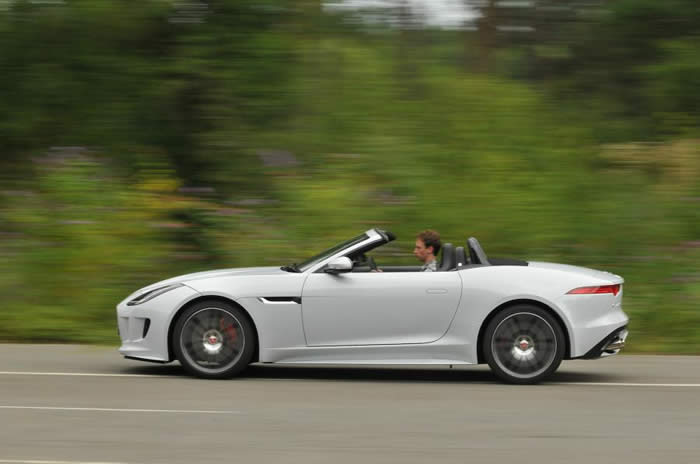 Inside, the new infotainment system is really a reskinned version of that which went before. The colourful new home screen admittedly has the same menu system behind it, but at least the whole thing seems more reactive to touch. There are also more shortcuts, despite there being some frustratingly small buttons to hit beyond the main screen.  
[contentblock id=3 img=gcb.png]
For many, of course, the idea of 543bhp being pushed through the rear wheels is perfection. But for most UK users, we'd wager the greater confidence that the AWD system brings, and the fact that it doesn't rein in the fun, will allow them to access more of what's great about the R on our unpredictable road surfaces, more of the time. We'd still recommend you try a Coupé first, should you want the sharpest F-Type available. This soft-top model is 90% there on ride and handling, though, and very few convertibles provide such a crowd-stopping soundtrack with each and every a squeeze of the throttle.