After burning through an estimated $6 trillion in funding, President Biden is appealing to American citizens to give the federal government additional money for Covid vaccines.' Biden said on Wednesday that the government is out of money to pay for Covid vaccines. Watch:
"Without more funding, we'll start to run out of them by the end of May, the end of May," Biden said. "We also had to scale back our plan to purchase more preventive therapies for Americans who are immunocompromised, critical tools to protect the most vulnerable among us."
"Without more funding, we risk running out of the supplies by this Fall," he added. "The same is true of testing. It took months to ramp up our testing capacity. With Omicron we saw how vital it was, and we have enough tests on hand to weather this surge. Without funding, we are not going to be able to sustain the testing capacity beyond the month of June."
"And if we fail to invest, we leave ourselves vulnerable if another wave of the virus hits," he continued. "Look, on vaccines and most important tool in this fight, we are also running a risk. Yesterday, the Food and Drug Administration, the FDA, and the Center for Disease Control and Prevention, CDC, authorized the fourth shot for those 50 years and older. We know boosters are critical to providing an additional level of protection."
President Biden, ironically, just received his second booster, as he previewed in his statement.
"That's why I plan to get my second booster today, right here after I'm done speaking," he added. "If you haven't gotten your first booster, please don't wait. Do it today. Those who are 50 and older, as well as those who are immunocompromised, can now get even more protection than they have from those initial first doses."
"We have enough supply to give booster shots to those newly eligible individuals, but if Congress fails to act, we won't have the supply we need this fall to ensure the shots are available free, easily accessible for all Americans," he said. "Even worse, if we need a different vaccine for the future to combat a new variant, we are not going to have enough money to purchase it. We cannot allow that to happen. Congress, we need to secure additional supply now. Now. We can't wait until we find ourselves in the midst of another surge to act. It will be too late.
"And we also need this funding to continue efforts to vaccinate the world," he continued.
White House Communications Director Kate Bedingfield was confronted on Wednesday about the government wasting trillions of dollars and demanding more.
"How about printing trillions of dollars, taxpayers want to know, is there not enough money to continue fighting the pandemic? Trillions of dollars," the reporter said. "Because all the accounting is done, every single dollar?"
"So, we have the resources that we need in this current moment," Bedingfield said. " What we need is this funding to be able to plan for the future to prepare for, as I say, the possibility of a new variant, the possibility of a new wave. We don't want to be caught flat-footed. We currently have, for example, all of the vaccine supply that we need to vaccinate and boost every American, but what we need to have this money for is to prepare to be ready for the future. As we know, the virus can be unpredictable and we need to be prepared and there's an urgent need to do that."
"Right, but can you see where taxpayers would be skeptical?" the reporter asked. "I mean, trillions of dollars, and obviously, billions more."
"I think taxpayers want to be prepared for the virus and they want to make sure that we have the resources that we need to keep them safe, and that's what this administration is focused on," she said.
It turns out that the vaccines aren't really "free." As previously reported, amid the trillions spent on Covid measures, there have been "hundreds of billions of dollars" in waste, fraud, and abuse.
According to new research, Covid relief fraud reached "hundreds of billions of dollars." Watch this video to see how NBC discovered several cases of waste, fraud, and misuse of federal money through Covid relief plans like the Paycheck Protection Plan (PPP).
"The fraudsters are bold buying luxury cars, flights on private jets, mansions like this Los Angeles," Lester Fraud reported. "Couple who led a massive $20 million fraud ring using fake IDs to apply for loans for fake businesses. They texted about the cash that was available."
"Congress now investigating Blue Vine, one of the third-party service providers who processed billions in loans and touted that a business could get loan approval in five minutes," Holt noted. "What didn't happen was even minimal checks to make sure that the money was getting to the right people at the right time."
It spoke with Department of Justice Inspector General Michael Horowitz, who is in charge of a task force looking into whether the $5 trillion in Covid aid money was spent properly.
"When the Small Business Administration in sending that money out basically said to people, apply and sign and tell us that you're really entitled to the money," Horowitz said. "And of course, for fraudsters, that's an invitation."
According to the CDC's Covid burden estimates, the vast majority of Americans have had Covid and have recovered. As a result, these people have "natural immunity."
According to the CDC, 80 million cases have been documented, with one out of every four infections being reported. As a result, there have been as many as 320 million infections caused by one or more variations. The United States has a population of 330 million people.
Most importantly, there is undeniable proof that natural immunity is far more durable than vaccinated immunity: The Covid protection lasted for 650 days without showing signs of degradation.
Prior infections were powerful protection during the Delta variant wave in2021, according to data from a CDC report released in January.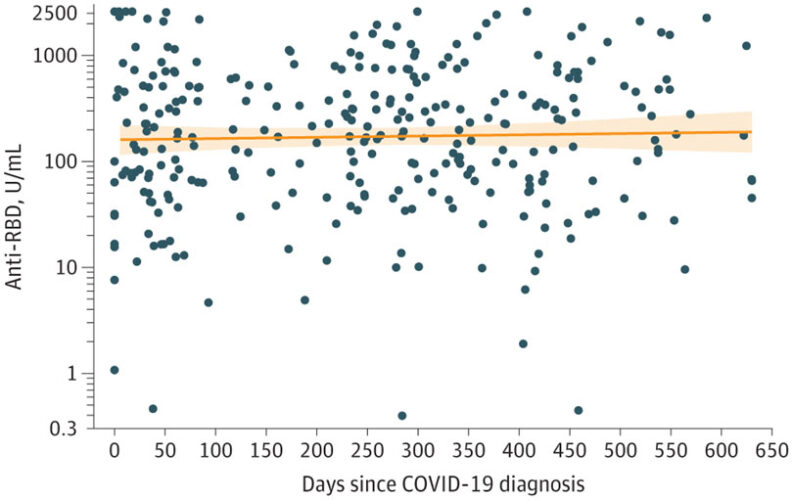 "During America's last surge of the coronavirus driven by the Delta variant, people who were unvaccinated but survived Covid were better protected than those who were vaccinated and not previously infected," france24 reported.
Dr. Marty Makary, a resident at John Hopkins and a Harvard-educated member of the National Academy of Medicine, commented that the findings were consistent with his studies.
If you've had Covid and so have "natural immunity," there's no reason to believe you'll need to be vaccinated for it again, let alone given multiple "boosters."