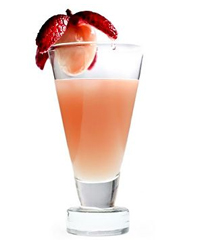 Amarula & Eve
Fruity and creamy, the Amarula & Eve is a delicious cocktail that can serve as a dessert or an appealing, mood-setting drink for those romantic occasions. The nice part about the Amarula & Eve is that it is not overly creamy and the Amarula itself is nicely balanced against the fruit flavors, especially the lychee. If you cannot find lychee juice, you can substitute one of the lychee liqueurs for it, the drink will be just a touch sweeter.
Ingredients:
1 1/2 oz Amarula Cream
1/2 oz Citrus vodka
2 1/2 oz Lychee juice
3/4 oz ruby red Grapefruit juice
Lychee fruit for garnish
Preparation:
1. Combine all ingredients in a shaker glass filled with ice.
2. Shake vigorously and strain into a coup glass.
3. Garnish with lychee fruit on the rim.