Most brides tend to opt for something demure and elegant when it comes to their big day. But if Kim Kardashian's latest, rather revealing, ensemble is anything to go by, she'll be turning on the glamour in a rather big way during her wedding to Kanye West later this week.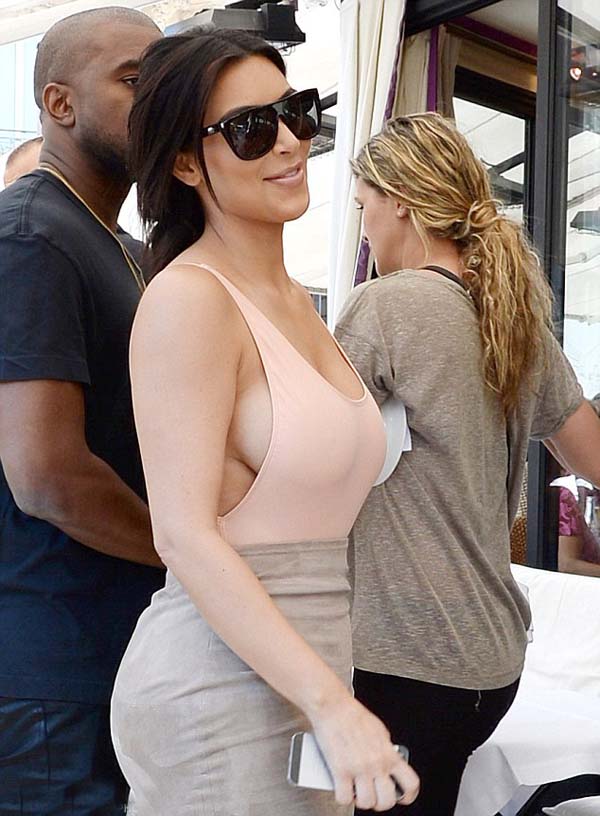 Proving she's not sticking to the 'blushing bride code', the 33-year-old reality star flashed a rather daring hint of sideboob as she and her rapper fiance stepped out in Paris, France, on Monday. Well and truly turning heads as she and her beau grabbed a bite to eat at upmarket restaurant L'Avenue, the raven-haired beauty showed off her incredible figure by going braless under her skimpy blush pink vest. Ensuring her showstopping hourglass curves took centre stage, the Keeping Up With The Kardashians star teamed her revealing, low-cut vest with an elegant stone-coloured suede pencil skirt, which clung to her figure in all the right places. Kim Kardashian ensemble was just as impressive from the back, with the scoop design of her vest drawing the eye downwards towards her world-famous derriere.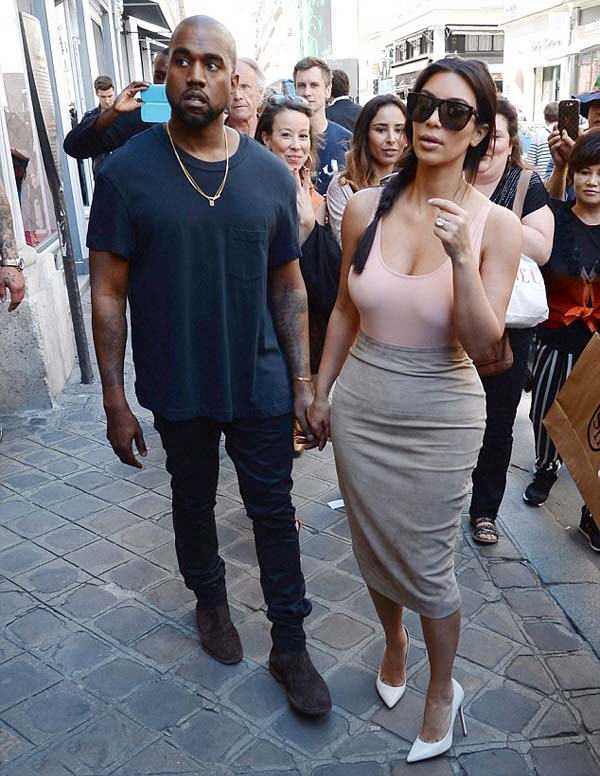 Mrs West-to-be added height to her diminutive frame with a pair of skyscraper white stiletto heels, and protected her eyes from the French spring sunshine with a pair of oversized shades. Kim Kardashian completed her look by wearing her long raven locks tied into a loose plait, and wore natural make-up to complement her striking features. The superstar couple seemed to be in good spirits as they went about their day, shopping at trendy concept store Colette on the upmarket Rue Saint Honore, before heading for lunch at their favourite French restaurant. While Kim commanded enough attention for their pair of them, Kanye kept his look a little more low-key for the pair's day out in the Parisian sunshine.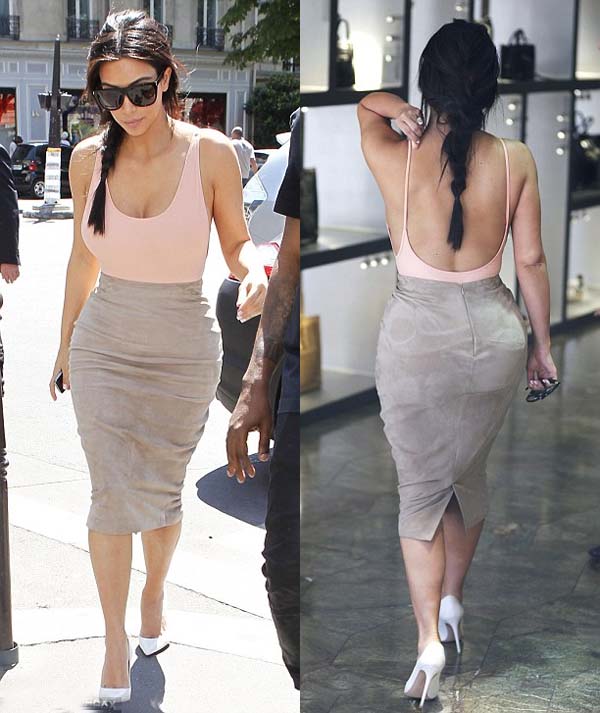 Continuing his penchant for leather, the Yeezus hitmaker rocked a pair of slouchy navy pants, which he teamed with a loose-fitting tee. Opting for comfort for his day out in the French capital, Kanye slipped on a pair of chocolate brown suede loafers, and accessorised with numerous gold chains as he strolled hand-in-hand with his stunning wife-to-be. Despite having been accompanied by sufficient luggage to clothe an entire family as she jetted to Paris from her native Los Angeles, Kim Kardashian seemed intent on splashing the cash – and was spotted trawling through the clothes on offer in Colette. The pair's day out comes after it was confirmed that they have been refused permission to marry in the Palace of Versailles – but they will visit on the eve of their wedding. A spokesman for the historic French national monument on the outskirts of Paris made it clear that the American celebrities were not considered distinguished enough for an official ceremony and celebration.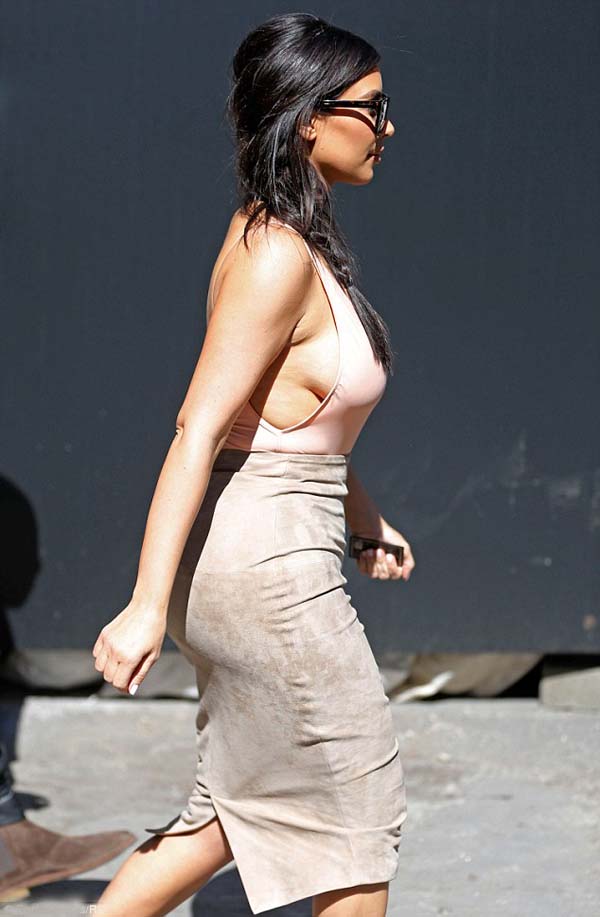 Instead they can 'enjoy a guided tour' with family and friends on Friday night 'after all the tourists have gone home.' This will leave reality TV star Kim Kardashian, 33, and rapper Kanye, 36, free to marry in Florence, as exclusively revealed by MailOnline, on Saturday. The wedding location for the couple, who have an 11-month-old daughter called North West, had previously been a closely guarded secret for a number of months. Kim and Kanye are known to have set their hearts on becoming man and wife in the world famous former home of France's pre-revolution kings and queens. But Catherine Pegard, president of the Palace of Versailles, said it just 'wasn't possible' –but allowing the couple a formal visit would be welcome publicity.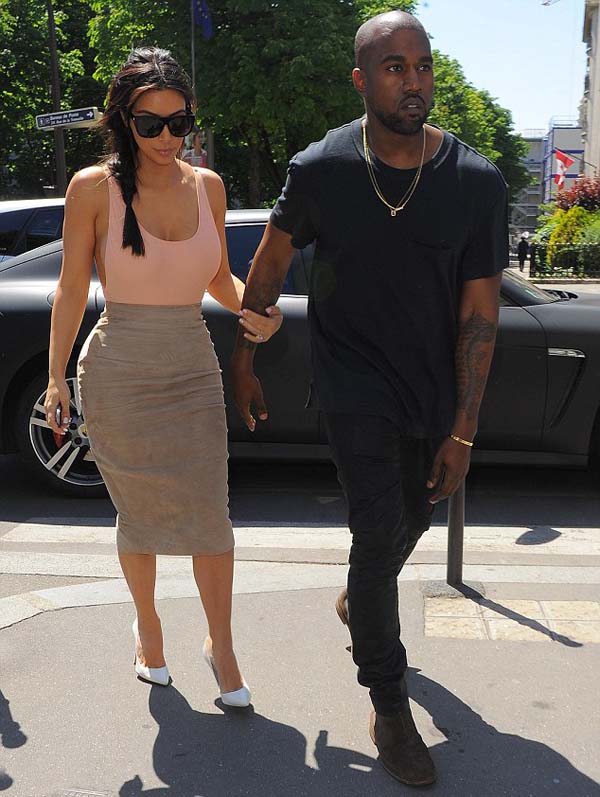 Ms Pegard said in a statement: 'Kim Kardashian and Kanye West have decided to visit the Chateau of Versailles with their guests in a private surprise tour organised for Friday, May 23rd, on the eve of their marriage. 'In making this choice, they will contribute once more to a better understanding of Versailles, and will help to maintain the exceptional heritage of Versailles, which is classed as a world heritage site by Unesco.' Kim Kardashian Kanye and their guests will be shown around Versailles, and its gardens, and will then be free to go and have a meal at a nearby restaurant or hotel. Both arrived in Paris at the weekend, with onlookers counting some 12 full size suitcases when Kim touched down at Charles de Gaulle airport on Sunday.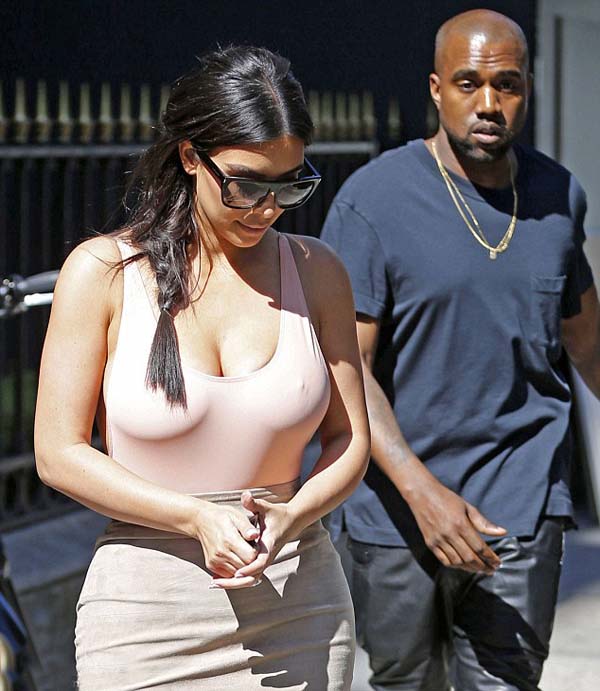 Dressed in a black leather jacket and shades, she was accompanied by an entourage including her daughter, a nanny, and at least two bodyguards. Kanye arrived in the city separately but – true to form – the couple were soon pictured wandering aimlessly around the historic boulevards. They bought ice creams for themselves in a small confectionary store on Paris's historic Left Bank and then eat them in the street, surrounded by a huge scrum of photographers and TV cameras who had been tipped off about the publicity event. 'Frankly, both Kim Kardashian and Kanye West looked a bit lost,' said a French photographer. 'They didn't know what to do with themselves apart from eat their ice cream and wander up and down a cobbled alleyway.'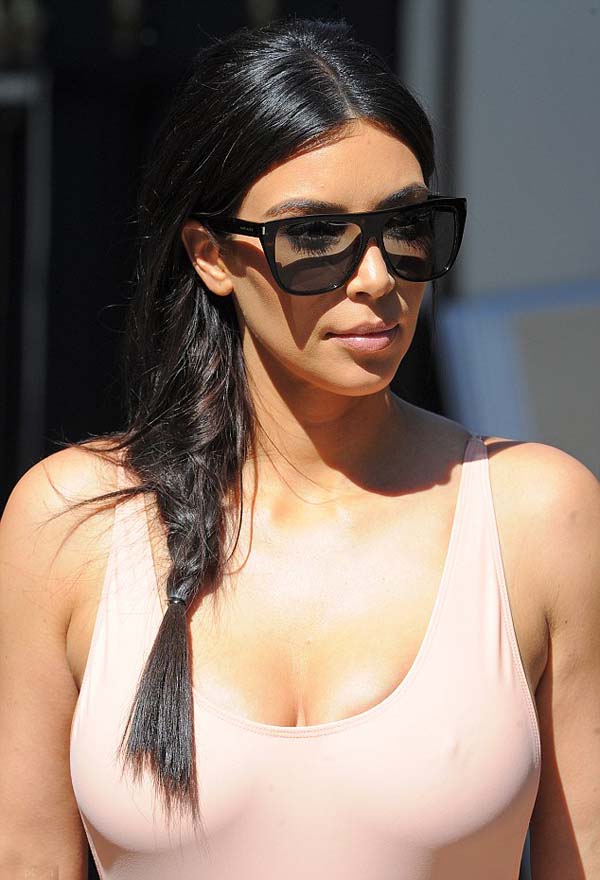 Wedding guests are said to have been instructed to fly into Paris for a rehearsal dinner on Friday. Then it has been claimed that everyone will get back in a plane and fly to Fort Belvedere in Florence for the actual wedding. Elisa Di Lupo, a spokeswoman for the Mayor of Florence, said the couple would wed in Italy next Saturday and revealed they had rented the imposing fort for some £250,000. Kim and Kanye first visited the Palace of Versailles for an official tour in January, but now they want to go back with all their friends. Guests at the wedding are thought to include the Kardashian family in their entirety, Jay Z and Beyonce. -dailymail