It was a slightly wobbly start and he couldn't quite work out the gears. But the Prince of Wales gamely took to his bike to launch a charity ride on Thursday, admitting he "hadn't cycled for years"
Prince Charles, 72, invited 30 cyclists to Highgrove, his Gloucestershire home, as they set off on a 250-mile Palaces on Wheels sponsored ride in aid of the British Asian Trust, stopping at royal residences including Windsor Castle, Buckingham Palace and Sandringham.
As he gripped the handlebars, the Prince quipped: "I haven't worked out the gears. I hope I don't bump into you or get stuck behind you later on." Despite a notable lack of confidence, he soon got into his stride and hared off down the quarter mile lane leading to his country estate.
Earlier, he had jokingly told the riders that they "were a very good demonstration of why I don't wear Lycra," adding: "It's a nightmare getting into it." The Prince got a fit of giggles when he was handed a tiny Lycra top by one of the charity ride's organisers, Rohit Chadda.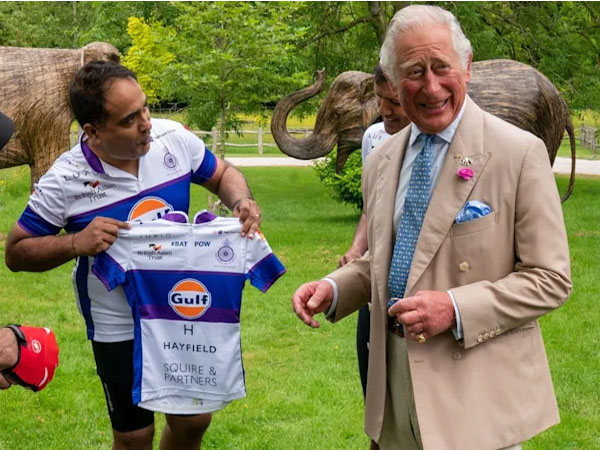 "Oh, have we got the wrong one?" Mr Chadda joked as he saw the royal's bemused expression.
"I mean, I have heard about Lycra," the Prince said, stretching the top, "but really!"
The Prince, who stood apart from the other riders in his light-coloured trousers and jacket, shirt and tie, was riding a borrowed Pashley bike. Asked why he wasn't tempted to go for a sportier model, he joked: "I don't think my back could take it!"
The British Asian Trust was founded by the Prince and a group of prominent Asian business leaders in 2001, and works to reduce poverty and disadvantage for communities in South East Asia. Before the cyclists set off, the Prince had some words of advice.
"It's very good of you to do this," he said.
"I do hope you don't get too saddle sore. I was told some time ago that surgical spirit can help with the sores."
He revealed that the event had forced him to have a little practice. '"I got in a bike the other day. It's years since I've ridden," he said.
Richard Hawkes, CEO of the British Asian Trust, said: "The prince is constantly thinking of what can be done and how he can be involved in getting help to those who need it. And to agree to get on a bike and do his bit today is fantastic."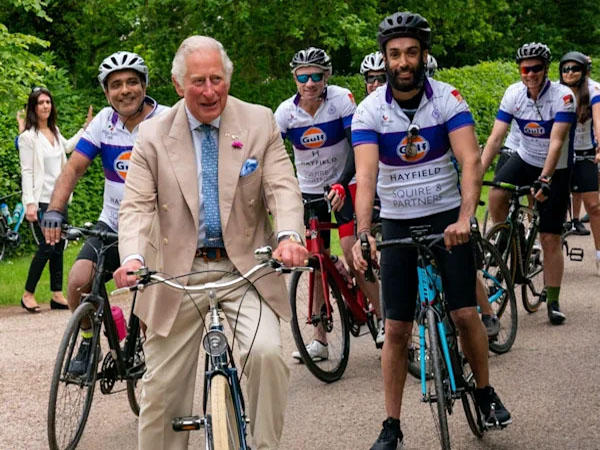 Organiser Rohit Chadda, one of the 30-strong team cycling from the Cotswolds to Norfolk, added: "One of the things the Trust has focused on is anti-trafficking work and that's what keeps you going on things like this. When you face a hill, you know you have to go on.
"We are incredibly proud of the prince's involvement. His involvement makes a huge difference to the money we raise. He is just genuinely engaged with people. He wants to make a difference for some of the most vulnerable people in society."
Actor Sanjeev Bhaskar, ambassador for the British Asian Trust who has been involved since its foundation, was also present to wave the riders off.
He said of the Prince: "I've not meant anybody that is as involved and sad hands on with a charity that bears his name. A lot of charities are extremely worthy….but given how busy his diary is, he always makes time. He is interested and curious and wants to know about the people who are benefitting and being supported by it. He is tireless. He doesn't have to, he isn't running for office, isn't wanting to be liked. He genuinely does this because he wants to. I've found that hugely inspiring."