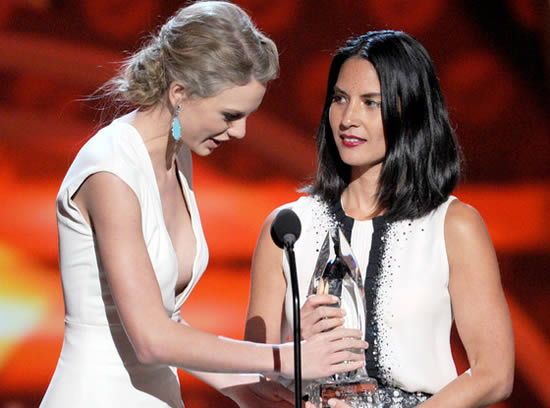 The 2013 People's Choice Awards honored the favorite shows, movies and celebs that was chosen directly by the fans. And as with any award show, tonight offered multiple show moments and memories to note. So take a look!
Best Attempt at Being a Superhero: After some tips from Black Widow (Scarlett Johansson), Katniss Everdeen (Jennifer Lawrence) and the Cullens (do we really have to label the names?), host Kaley Cuoco found her inner superhuman strength to fight the zombies who were dancing "Gangnam Style." Worst Tongue-Twister: Unfortunately, those superpowers didn't help Cuoco when she needed to read the teleprompter. It's all good, though, she just did a little laugh and started over. No one even noticed…(that's a lie).
Best Reminder: She's been in the biz for over 20 years now, and people still love her. Jennifer Aniston beat out Mila Kunis, Emily Blunt, Reese Witherspoon and Cameron Diaz for Best Comedic Actress for her role in Wanderlust. Rachel Green would be so proud!
Flashback Moment: Olivia Munn pulled a Kanye West (kinda) when Taylor Swift—who almost suffered a nip slip with that plunging neckline—was getting her Favorite Country Artist award by continuing to interrupt her acceptance speech. "This always happens to me," Swift said. Poor thing.
Best Rejection: While introducing Alicia Keys' performance, actor Shemar Moore revealed that when he first met the singer 10 years ago, he asked her out on a date. Her response? "Look here son, I respect your flirt game, but my man situation is handled." Daaaaang! Z-snap.
Sweet Moment: The cameras quickly got a glimpse of Swizz Beats and son Egypt rocking out to mommy Keys' performance. So cute!
Most Thank-Yous in One Speech: You're welcome, Chris Colfer. The Glee star won Favorite Comedic Actor in a TV Series (along with costar Lea Michele for Favorite Comedic Actress) and said "thank you" nine times. Nine. Yeah, we didn't mind.
Most Interesting Speech: Adam Sandler spent about five hours (not really) letting the audience know some of his favorite things when accepting the award for Favorite Comedic Actor in a Movie. It included Halle Berry, Fiona Apple, People's Choice audience and sleeping with his "third lower thumb inside dog."
Best Flexibility: Stars Monica Potter and Anthony Anderson attempted to do a flash mob (while dressed in snazzy, gold attire) but failed. However, all was made up for when the duo went down in the splits. Touché!
Greatest Noobs: The sexy boybanders from The Wanted won their first award ever for Favorite Breakout Artist, and were so incredibly sweet about it, but that's not the best part. They had promised that they'd sing Ellen DeGeneres a song if they won, so the guys did an a capella version of "Afternoon Delight" (similar to the Anchorman rendition), which was fantastic.
Fun Fact: Another reason to love Jennifer Lawrence? Well, she sweats a lot and admits it. "Oh my gosh, I'm sweating so much I'm gonna drop it [Favorite Movie Actress award]. Oh god, Robert Downey Jr. knows, I sweat all over you…when I shook his hand." Oh, J.Law.
Best Sexy Slit: Whoa, Ellen Pompeo. That slit on her white gown stopped right before her lady bits. Go 'head, girlfriend. Worst Envy: RDJ accepted his award for Favorite Movie Actor and gave presenter Naomi Watts a very long kiss on the cheek. So jealous.
Best Tearjerker: Grab the Kleenex! For the first time, People's Choice added the Favorite Humanitarian award, which went to the beautiful Sandra Bullock (seriously, does this woman age?). During her acceptance speech, the actress held back tears while speaking of the Charter School in New Orleans she helped fund, and it was truly a heartfelt moment.
Biggest Switch: Christina Aguilera did a 180 when it came to her performance. Instead the crazy show she put on at the American Music Awards, she kept it simple with candles and a mic (and full wardrobe).
Here's the complete list of winners from the 2013 People's Choice Awards:
Favorite Comedic Movie Actress: Jennifer Aniston
Favorite Comedic Movie Actor: Adam Sandler
Favorite Comedic Movie: Ted
Favorite Movie Actress: Jennifer Lawrence
Favorite Movie Actor: Robert Downey Jr.
Favorite Movie Icon: Meryl Streep
Favorite Movie: The Hunger Games
Favorite Movie Franchise: The Hunger Games
Favorite Action Movie Star: Chris Hemsworth
Favorite Action Movie: The Hunger Games
Favorite Dramatic Movie Actress: Emma Watson
Favorite Dramatic Movie Actor: Zac Efron
Favorite Dramatic Movie: Perks of Being a Wallflower
Favorite Movie Fan Following: Twi-hards, Twilight
Favorite Comedic TV Actress: Lea Michele
Favorite Comedic TV Actor: Chris Colfer
Favorite Cable TV Comedy: Awkward
Favorite Network TV Comedy: The Big Bang Theory
Favorite New TV Comedy: The New Normal
Favorite Dramatic TV Actress: Ellen Pompeo
Favorite Dramatic TV Actor: Nathan Fillion
Favorite Network TV Drama: Grey's Anatomy
Favorite Cable TV Drama: Leverage
Favorite New TV Drama: Beauty and the Beast
Favorite TV Crime Drama: Castle
Favorite Premium Cable TV Show: True Blood
Favorite Sci-Fi/Fantasy TV Show: Supernatural
Favorite Competition TV Show: The X Factor
Favorite Celebrity Judge: Demi Lovato
Favorite TV Fan Following: SPNFamily, Supernatural
Favorite Daytime TV Host: Ellen DeGeneres
Favorite Late Night Talk-Show Host: Jimmy Fallon
Favorite New Talk-Show Host: Steve Harvey
Favorite Male Artist: Jason Mraz
Favorite Female Artist: Katy Perry
Favorite Country Artist: Taylor Swift
Favorite Pop Artist: Katy Perry
Favorite R&B Artist: Rihanna
Favorite Hip-Hop Artist: Nicki Minaj
Favorite Band: Maroon 5
Favorite Breakout Artist: The Wanted
Favorite Album: Up All Night, One Direction
Favorite Song: "What Makes You Beautiful," One Direction
Favorite Music Video: "Part of Me," Katy Perry
Favorite Music Fan Following: KatyCats, Katy Perry
Favorite Superhero: Robert Downey Jr., Iron Man
Favorite Face of Heroism: Jennifer Lawrence, The Hunger Games
People's Voice Award: Christina Aguilera
Favorite Onscreen Chemistry: Jennifer Lawrence, Josh Hutcherson, Liam Hemsworth, The Hunger Games
Favorite Humanitarian: Sandra Bullock
Via: eonline